NOKIN's most popular product is
solar road stud
. The materials of solar road stud are various. According to different needs, we can choose different materials to create solar road stud.
One of the advantages of
solar road stud
is its strong compression performance. Because of this, the maintenance cost of solar road stud is low, even basically no maintenance. Moreover, the service life of solar road stud is long, which can reach 5-8 years.
The
plastic solar road stud
also has a strong compression capacity. NOKIN solar road stud is made of strong plastic material with bright mirrors on both sides. NOKIN plastic solar road studs reflect light at night to obtain better and clear visibility, thus attracting the attention of vehicle drivers and helping to drive safely.
Plastic solar road studs
also passed the compression test. In order to determine the compressive strength of NOKIN plastic solar road stud, the NOKIN plastic solar road stud was embedded in the pavement for compression test. In the compression test, the failure point of NOKIN plastic solar road stud is that the light no longer works.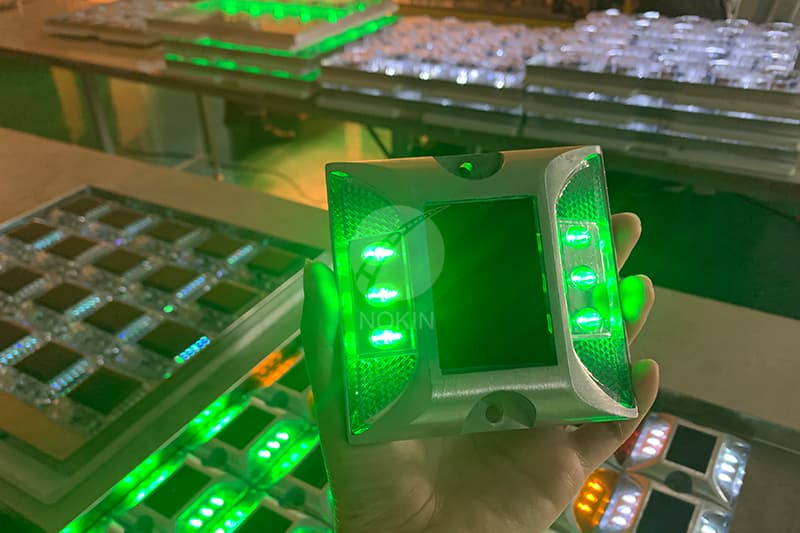 I have my own idea to the
solar road stud
product, can NOKIN help and produce it? Yes. NOKIN has professional engineer department accept ODM&OEM. No matter what color you like for solar road stud, NOKIN can produce it. And we can adjust the shape or size of solar road stud either. If you would like to more or less LED blub, we can also adjust our solar road stud products.