Today, we will introduce the product
solar road stud
K1. The performance requirements of solar road stud light-emitting devices and batteries are introduceed here. I hope our introduction to solar road stud can help you. Welcome to buy NOKIN solar road stud products.
The material of
solar road stud K1
is PC plastic + epoxy resin. The filling material can make the solar road stud products not easy to be damaged and fix the internal electronic components. So the pressure resistance of the product is trustworthy. The display device of solar road stud K1 is super bright LED. The lighting capacity LED be less than 2000 MCD. And the half intensity angle of LED of solar road stud shall not be less than 15 °.
The display mode of
solar road stud K1
is flashing (2Hz by default, can be customized), or straight bright, single-sided or double-sided. The display colors of solar road stud K1 are red, yellow, white, blue and green. You can choose the color you like and NOKIN will produce solar road stud according to your requirements. NOKIN solar road stud LED lighting frequency can be selected, flexible choice of use scenarios.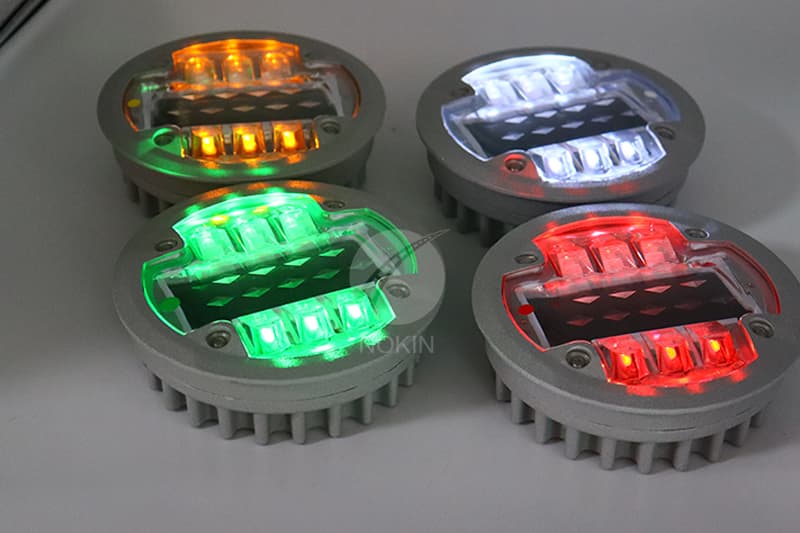 Due to the use of solar panel (mono crystal 2.5V / 0.2W) as power support and the help of ni-mh1.2v/800mah or lithium battery,
solar road stud K1
can work continuously for more than 72 hours under standard light intensity for 8 hours at a time. Lithium iron phosphate batteries are generally used for solar road stud K1. And the charge discharge times should be more than 1000 times. Moreover, the capacity of solar road stud battery is not easy to drop after repeated use.
The battery life of reflective
solar road stud K1
should be more than 10 years. The solar road stud K1we sell and install in South Africa have been in use for ten years and are still working well. NOKIN solar road stud K1 is well received by customers, and customers are very loyal to this LED solar road stud product. The base of the solar road stud is made of die-casting aluminum, and the surface is sprayed with plastic, which has the functions of lightweight, waterproof, strong shock resistance, and corrosion resistance.